Full-Service KITCHEN DESIGN & REMODELING
Get Started
THE MOST POPULAR ROOM IN THE HOME JUST GOT BETTER.
Ready to Remodel Your Kitchen?
Kitchen design and remodeling includes the renovation of your greatest and most used space in your home.No kitchen is complete without cabinets made specifically for your space. We design, build, and install custom kitchens & cabinets for both residential and commercial properties. Custom kitchen cabinets are a staple of kitchen layouts, and we at Sunny House go the extra mile to feature kitchen cabinets that match your style and your space. We offer Completely custom cabinets and semi-custom Cabinets in Norwalk, Westport, Darien, Wilton, Stamford, Greenwich, New Canaan and Fairfield county. You have an endless number of options when it comes to your kitchen cabinet design. The three most popular styles are:
Classic/traditional kitchens
Contemporary/modern kitchens
Transitional kitchens
The style you choose will depend on your décor, your preference and taste, and the overall look you want to achieve. Want a clutter-free, seamless space? Contemporary or modern might be for you. Want some old-world charm? You should go with a classic design.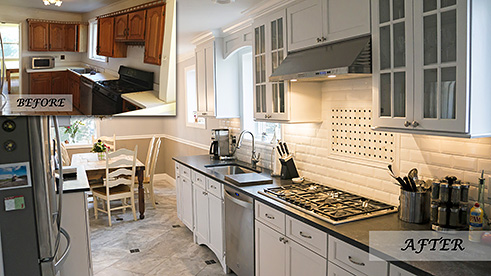 Good Design Can Happen No Matter the Budget.
The Sunny House design team will measure, inspect, and document the existing conditions of your kitchen to develop your first design concepts. Detailed floor plans and beautiful 3D renderings will all be part of your design presentation. This helps you to visualize the finished project so you know exactly how your finished Kitchen will appear! You can now see your Kitchen design and color combinations in full 3d view. In addition, our in house construction team will develop cost budgets for every concept to keep you informed. We understand that no matter how good your kitchen looks, if it doesn't function well for your needs or is beyond your price range, you probably won't be happy with it. That's why we approach each design with three primary considerations: function, budget, and aesthetics.
Design is a crucial element in the renovation of your kitchen space, but without expert craftsmanship the dream will not become a reality.
---
---
Our Kitchen Design Process
Listen + Identify
This meeting at your home is critical for the kitchen design process to get started on the right foot. Meeting with you in the space and having an open conversation allows us to understand your vision for the new space.We framing out your lifestyle & budget through asking core questions, allowing us to set realistic expectations and identify the scope of work.
Design Presentation
We'll use our prior conversations and measurements to put together a presentation of what the new kitchen can be. Detailed floor plans and beautiful 3D renderings will all be part of your design presentation. It is also at this time that the homeowner has the freedom to explore multiple design options and their associated costs, without having to build architectural plans. Time is taken to go over various options in finishes, cabinetry, appliances, etc. that is worked and reworked until it all fits the homeowner's needs and budget.
POST DESIGN/PRE-CONSTRUCTION PHASE
Once a final design is chosen, the homeowner enters a construction agreement and detailed construction drawings for your new kitchen are developed. After a contract is agreed upon and signed, we begin ordering all materials for your project. We obtain building permits and establish a kitchen project timeline. We communicate with you daily as we proceed through your project, keeping you up to date with every step.
Executing a Kitchen Remodel
Our Manager makes one final site visit to walk-through your home and set the scenario for Day 1. We discuss the desired placement of our job trailer, dumpster, protective dust barrier locations, hours of work, jobsite cleanliness and material storage.
Our dedicated staff will guide you through the process to make your remodel go as smoothly as possible.
Prior to completion, you and Sunny House's manager walk through the project and record any small items or details that need to be altered to ensure you are 100% satisfied with your project.
---
Get Started Today!
We specialize in kitchen remodeling in southern Connecticut and building low, medium, and high end kitchen remodels all over Fairfield county.
Because we manage every step of the kitchen design and remodeling process, you don't have to wonder about how your budget is spent or whether your project is on schedule. Our in-house team keeps you in the loop from start to finish, so you can worry less about surprises and go on living.
We know what it's like to live with a kitchen under construction, so we make the process as unobtrusive and streamlined as possible. Our comprehensive design/build services ensure that the remodeling process is as smooth, simple and satisfying as it should be.
Ready for your own dream kitchen?