Create an entirely new space for living and improve your quality of life
Design and Build a Deck or Patio that can be enjoyed year-round is what we do best.
We love transforming outdoor space into outdoor living space. With our Decks or Patios you can extend your home into the outdoors. We can even build grill areas and outdoor kitchens. All you need to add are the friends.
Your new deck will be a major purchase and addition to your home so naturally, you want to set your deck apart from any other in the neighborhood. The proper design of your deck assures the maximization of your investment dollar and a beautiful, functional "outdoor living area."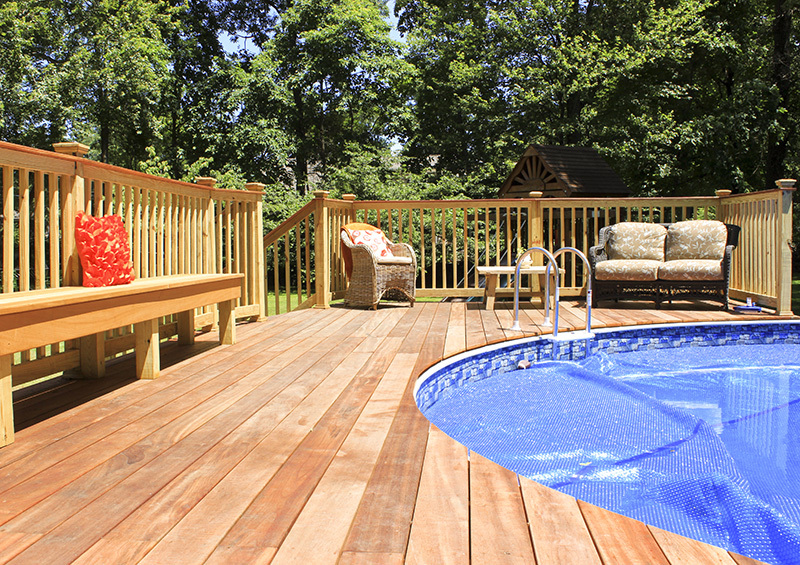 ---
Design, product selection and permitting.
We're a full service residential Deck and Patio contractor. We listen to you, ask you some important questions, and then share our years of craftsmanship and experience with you to design and build the perfect deck for you and your family.
We accommodate you so we can design a deck that works with your budget and style.
We can integrate the deck or the structure we build with any existing sun room, spa, balcony, pool, waterfall or any other element in your back or front yard.
After we meet with you and have a full understanding of your vision, needs and wants, building, construction specifics & requirements, and the unique challenges of your project (if any) we'll give you drawings as well as full estimate proposal. for you to review.
There are many products to choose from when it comes to designing a deck project and with our product knowledge and design skills we will help you make the right choices.
Once you decide that SunnyHouse is your contractor of choice, you can relax and let us take care of everything. Besides design and installation our experience covers planning and permitting. We have extensive experience in working with local and state permitting agencies and can help guide your project through the system as smooth as possible.
Before we leave, we will walk your project with you to make sure all is up to your expectations, and answer any final questions. And after we leave it is just the beginning of our finest follow-up and warranty service.
---
3D Design of your Deck – See It before you Build It
---
Sunny House is glad to offer the most sophisticated 3D deck design in the industry. We design each deck from scratch and use sophisticated software that allows for any imaginable deck shape and layout, custom planters, privacy screens, railings pergolas and other features. No more guessing and hoping it turns out as you expected. It is just one of our ways to provide you, the homeowner, with a quality deck starting from design to completion.
Here are some of the many advantages of doing a 3-D Design with Sunny House prior to construction:
ADVANTAGES
01

It allows you to visualize your future deck and make the necessary changes or improvements at the design stage before you even endorse our deck construction agreement.

02

You know exactly what to expect from a contractor, there will be no surprises or extra costs due to the fact that you did not know how exactly something is going to be built.

03

It allows you to experiment with different designs, styles and materials.

04

It allows you to allocate the needed space for your patio furniture, BBQ are, play area etc.
Ready to Start Designing Your Dream Deck ?
If you are searching for a home remodeler or Company to design and build Deck or new Patio in Fairfield, Stamford, Darien, New Canaan, Westport, Norwalk, Ridgefield, Weston, Wilton, Stratford, Trumbull or Greenwich of Connecticut and need help or would like to request a free quote please feel free to contact Sunny House Construction at 203-906-0120.