CUSTOM BATHROOM DESIGN & REMODELING
The hardest part of any bathroom remodel is getting started!
BATHROOM REMODEL contractor in Fairfield County
Bathroom remodels are by far the most popular projects we've built in Connecticut. They are also the most demanding. There is no more harsh environment in your home than the bath and they must be built to withstand extremes of temperature, humidity and hard daily use.
At the same time, the bathroom is a space where you'll spend a great deal of time each and every day. So the choice of bath design and finish becomes an important statement of your personality and taste.
A bathroom remodel can add immeasurably to your comfort and enjoyment, as well as raise the value of a Connecticut home
Whether you have a large or small bathroom, remodeling is easy with Sunny House. We have what you're looking for and we will make it beautiful by providing you with the best new solutions.
SUNNY HOUSE can create the bathroom of your dreams, from concept to completion. We will reconfigure floor plans, move walls, fixtures and utilities, to increase floor area and storage space. A bathroom remodeling project is also the perfect chance to upgrade the plumbing systems, fix weak water pressure, or replace leaky faucets.  Heat, moisture, and heavy use make the bathroom especially vulnerable to deterioration and structural damage.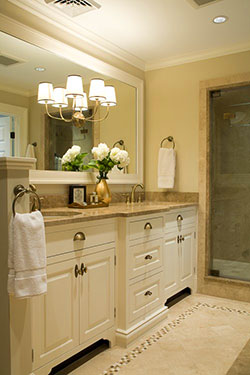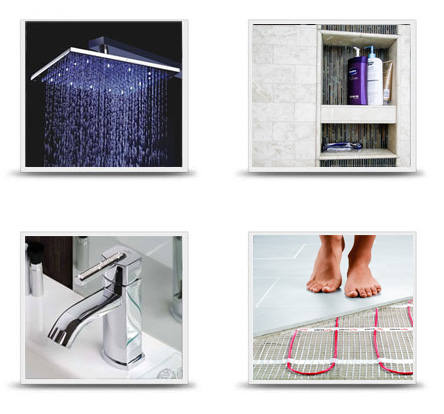 ---
We will complete your dream bathroom with carefully selected details such as stylish and durable tile and natural stone, beautiful custom vanities, faucet and lighting fixtures that bring it all to life.
---
Your Bathroom Will Be Designed For You
At Sunny House, we are committed to providing our customers with bathroom design services that are completely customized to suit their unique needs, and we'll be happy to build you the bath of your dreams at your home in Stamford, Fairfield, Greenwich, Norwalk, Wilton, Darien, or anywhere else throughout Fairfield County.
We specialize in custom designs, so you know your Bathroom is unique from all others.
Our Bathroom 3D designs will help you to visualize you new Bath. Our designer will create a professional CAD drawing and generate realistic image for your review.
You can now see your Bathroom design and color combinations in full 3d view before you even endorse our Bathroom renovation agreement. This helps you to visualize the finished project so you know exactly how your finished Bathroom or Kitchen will appear! No more guessing and hoping it turns out as you expected.
We evaluate your space and your personal requirements. Our experienced CAD designers will draft and price your kitchen or bathroom project and guide you each step of the way…developing color schemes, specifying cabinetry and appliances, selecting furniture, accessories, planning lighting, floor treatments….The result is a truly personalized design that fits your lifestyle and your own sense of style. It is just one of our ways to provide you, the homeowner, with a quality bathroom starting from design to completion.
We focus our design, building and remodeling efforts in specific Fairfield county area such as Stamford CT, Greenwich CT, Darien CT, Fairfield CT, Norwalk CT, Wilton CT, Westport CT, Easton CT, Trumbull CT, New Canaan CT.
For a free consultation about redesigning and renovating your bathroom, please fill out the form or call 203-906-0120. The Sunny House team would love to talk with you.